Friday, April 17, 2015
For Indonesia, 4th Place Really Is A Trophy
My latest
Jakarta Globe
column looks at Indonesia's chances of qualifying from their World Cup group.
Thursday, April 16, 2015
Acair's Dilemma Sums Up Persija's Woes
Alan Aciar is exactly the kind of player Indonesian football, in an ideal world, should be trying to attract. For a start the Argentine defender is 27 years old. He still has a future in the game, he has something to play for even if it is just more of a journeyman career where he has done little to scale the heights of unknowness.
So why has he been tweeting the following?
I thing the Last week in jakarta...
23 retweets
2 favorites
I don't no what i do in this Situation, stay In here or go home...
20 retweets
0 favorites
A plaintive cry to leave. Doubtless Aciar is torn between his responsibilities as a professional footballer and the ludicrous situation he finds himself in Indonesia/
On paper it would have looked like a good move. Big club, passionate fans, thrilling league, what is not to like? And when your early experiences include friendlies in front of 80,000 fans hey baby, this has to be the life right?
Wrong. Unfortunately Aciar signed for Persija a club whose finances are never the best. Even their favourite son, Bambang Pamungkas, walked away for a couple of seasons because of delays in salary payments. Getting your money has long been an issue at a club that boasts one of the highest attendances not just in Indonesia but throughout South East Asia.
Weeks into the pre season and there were mumblings about money woes but Persija passed the criteria set down by both the PSSI and BOPI with flying colours. Despite having no money. And, as an aisde, despite not having a stadium confirmed for the first two home games of the season (Bung Karno not available due to a gathering of world leaders).
On the one hand Persija were hosting former Asian Champions League champions Gamba Osaka in a game organised by the Japanese club's sponsors, on the other they were pulling out of a competition in Bali because they had no money.
Other friendlies were ostensibly cancelled because the squad were carrying too many injuries; and this before a ball had been kicked in anger!
The season did get under way and the club managed to find enough money to get down to East Java for a couple of away games but in each case they dropped points after conceding goals in the last minute.
The league was then stopped after BOPI issued a warning Arema and Persebaya could not continue because of ownership disputes. Persija were not deemed to be a problem, at least by those official types.
Then came news Persija players were refusing to train in protest at not receiving any of the money they were owned. The return of Bambang had come back to bite the club on the bum. Not only is he the most popular player in football, he is extremely articulate and a member of the Indonesia Professional Footballers Union, the official players union recognised by FIFA.
His team mate Ismed Sofyan by the way is also/was also member of APSI, a tame players' union formed by the PSSI!
With the players now informed of their rights it seems they have had enough and downed tools, or downed shinpads. Reports seem to be indicating they have been given time off in the absence of any competitive games but insiders seem to suggest the payers have just niet. Nein. Non.
The club just sit and whine, saying they are waiting for cash from their sponsors. There seems to be little initiative being shown, no one saying let's use this break to organise a lucrative friendly; the club like many in Indonesia lacks any kind of entrepreneurial zeal.
Instead of building on that 80,000 attendance earlier in the year the club took to playing pointless friendlies on fields pub sides in England would moan about.
Against that little lot, little wonder Acair has taken to social media to express his disquiet. It's a shame more players don't take his lead...
Wednesday, April 15, 2015
Indonesia's World Cup Draw
11/06/15 - Chinese Taipei v Indonesia
16/06/15 - Indonesia v Iraq
02/09/15 - Vietnam v Indonesia
08/10/15 - Indonesia v Thailand
13/10/15 - Indonesia v Chinese Taipei
12/11/15 - Iraq v Indonesia
17/11/15 - Indonesia v Vietnam
29/03/16 - Thailand v Indonesia.

1st place - 3rd World Cup qualifying round, AFC Asian Cup
2nd place - 3rd World Cup qualifying round, AFC Asian Cup or 3rd qualifying round
3rd place - AFC Asian Cup 3rd qualifying round
4th place - AFC Asian Cup 3rd qualifying round or play off
5th place - AFC Asian Cup qualifying play off

Remember how we mocked Arsene Wenger for saying 4th place is as good as a trophy. In Indonesia's case, looking at the teams in their group, he wasn't far off!



Monday, April 13, 2015
Gresik United Suprise Early Leaders
Barito Putera v Gresik United 0-1 (Herman Dzumafo) 10,513

It's all kind of meaningless at the moment and the enforced interruption to the league will probably break their momentum but it is kind of nice from a neutral perspective to see Gresik United sitting atop the Indonesia Super League after Dzumafao's early goal made it three wins out of three.

The home side gave a debut to new signing striker Alekos Alekou a former Cyprus international who must be wondering what the earth he has let himself in for with the league taking an enforced two week hibernation.

While Gresik United may crow about their start to the season, Barito Putera, returning to the 17 May Stadium, will find less joy in their loss and know they have two weeks to prepare for their next game; a potential banana skin away to Perseru.

PSM v Sriwijaya 3-3 (Syamsul, Nemanja Vucicevic, Adita Putra Dewa; Goran Ljubojevic 2, Morimakan Koita) 15,749

It is one of the most under reported stories of the year but PSM, one of the oldest clubs in Asia, have returned to their home town of Makassar after being forced to spend the 2014 season in Surabaya as the powers that be deemed their Andi Mattalatta Stadium not up to standard.

They began their campaign in style crushing Persiba 4-0 but Sriwijaya were always going to be a tougher proposition.

Roared on by the fanatical Maczman PSM took the lead through their own talismanic figure, Syamsul Chaeruddin. Now 32, Syamsul was born in South Sulawesi and made his debut for PSM back in 2001 and making his international debut three years later.

He spent nine years with PSM before going to Persija and Sriwijaya but returned home in 2012...it's just a shame a lack of accurate records mean there is no true record of how many times he has played for the club.

Ex Balestier Khalsa striker Goran Ljubojevic equalised just before half time, his second of the season. PSM came out second half all guns blazing and Nemanja Vucicevic restored their lead on 54 minutes.

However Sriwijaya have become the draw specialists of the news season and Koita indeed made it 2-2 just minutes after coming on as a substitute. Adita made it 3-2 before Goran's second levelled and gave Sriwijaya an unwanted 100% record; three draws in their opening three games.

1 - Gresik United 3 3 0 0 6-3 9
2 - Persipura 2 2 0 0 7-2 6
3 - Persib 2 2 0 0 4-0 6

3 goals - Bambang Pamungkas (Persija), Fabiano Beltrame (Arema), Lerby Eliandri (Bali United Pusam), Goran Ljjubojevic

Persipasi 'Promoted' To Indonesia's Top Flight
The longest soap opera of the pre season has finally ended with the announcement Pelita Bandung Raya will merge with Persipasi* and be known as Persipasi Bandung Raya. This is wonderful news for Persipasi of course; they had been looking forward to a campaign in the Nusantara League, Indonesia's third tier, but now find themselves dining at the top table. If in name only.

Bekasi will be the latest stop for the team formerly known as Pelita Jaya. Since their inception they have played home games in, deep breath, Jakarta, Cilegon, Solo, Purwakarta, Soreang, Karawang...apologies if I missed any out!

PBR's future had been under cloud all during the pre season break as they club struggled to find a stadium. Si Jalak Harupat was too big and too expensive; Siliwangi Stadium was ruled out by the ISL. The announcement and the name change come two games into the new season that has since been halted by the government (in any other country that sentence would be seen as ludicrous!).

Of course quite when PBR will be able to settle in their new home remains to be seen. Persipasi couldn't use the new Patriot Stadium last season because of um, well because someone didn't want them to and with the season taking a break so politicians can have their fun who knows when the league will return?

What of the PBR fans in Soreang or Bandung? There were only a couple so I guess their views have been discounted. What of the Pelita Jaya fans in Karawang? Long time ago lah. And Persipasi fans? What think they of this wondrous gift that has dropped in their laps after the season has started?

*Apparently it is not a merger. Persipasi bought shares in PBR. Wow, I wasn't aware Persipasi had the type of money to go out investing. Still, think of that lolly sloshing around in the league thanks to the big sponsorship deal.

Thursday, April 09, 2015
Ibo's Fate Highlights Football's Ills
Having promise as a youngster in professional football in no guarantee a player will go on to become a household name, a world beater or even any bloody good. For every Gareth Bale there are hundreds more David Bentleys or Peter Coynes or John Bostocks.

There are many obstacles that stop a player becoming a true great and to be fair many are down to the player himself. Being told you are brilliant when you are 19, it doesn't mean they have to believe it and become Billy Big Bollocks.

I remember the first time I met Fandi Ahmad, the one time Singapore legend who was coaching Pelita Jaya at the time. He was positively drooling about some of the young players at his disposal.

Egi Melgiansyah for example. He always looked cool, calm and collected when I saw him, comfortable on the ball and able to spray passes around the field like Phil Taylor on the Oche. He left Pelita Jaya in 2012 and despite having spells with Arema and Persija he has yet to really blossom as he should have. Mind, he is only 24...the first time I saw him play he was a callow 16 year old.

He is now with Pusamania Borneo, perhaps harbouring at the back of his mind the notion a good run there could see him earn a call up to the national team or perhaps just hoping to get regular game time.

Another Pelita Jaya alumni to look to East Kalimantan is striker Jajang Mulyana. This lad was considered good enough as a teenage to spend time with Brazilian side Boavista in 2008, 2009.

Pelita Jaya let him go in 2011 and after a spell on loan with Sriwijaya he moved to Mitra Kukar. Out of sight out of mind it seems, despite being 5.11 tall, large for an Indonesian striker, he continues to be overlooked by the supposed bigger clubs and the national team despite netting a goal every three games for his team.

Fandi's goalkeeper in that youthful line up was Dian Agus Prasetyo. Now 29, Pelita Jaya signed him from Persijap and he became a mainstay of the team that reached the Copa Indonesia semi finals in 2007, even getting called up by the national team.

Leaving Pelita Jaya in 2011, he went on to have spells with Arema, Barito Putera, and Mitra Kukar before signing for Sriwijaya ahead of the 2015 season where he will be hoping regular first team football could see him back in the fold for the national team.

And then we have Yohan Ibo. A cultured defender, comfortable on the ball, he joined Pelita Jaya in 2007 and was a mainstay at the back. Leaving in 2010, he went on to Arema, Persebaya, Barito Putera before pretty much falling off the map, another promising young player chewed up and spat out by the short termism of a game where politics will always trump football.

Ibo was back in the headlines when it was revealed he was allegedly offering cash to players to lose a football match. It is highly unlikely he was acting on his own but whether we ever hear who was behind the scenes remains to be seen.

He is now being talked about the face of a football match fixing mafia. A harsh word mafia, especially if you have watched the Godfather. Ibo is no cigar chewing wise guy in a sharp suit who is being seized upon as an easy target.

It is tempting to think what might have happened had Fandi kept those players together. Would they have benefited from the shared experiences and mentoring they could provide each other? We will never know. But far from Ibo being the bad guy here, what we have is a failure of the way people approach football in this country. Everything is immediate be it from club owners worried about their status in their community to fans quick to stay away when results don't go their way.

12 month contracts, unpaid salaries may not be the reason why Ibo decided to get involved, we just don't know. But they are just two more ingredients in a lethal cocktail that is poisoning Indonesian football and Ibo is one more victim.

Zulham The Game Changer
Persipura v Bali United Pusam 5-2 (Tinus Pae, Zulham Zamrun 2, Boas Solossa, Robertinho; Lerby 2) 21,136

He was one of the few bright lights during Indonesia's failure at last year's ASEAN Football Federation Cup. Persipura were strangely inactive during the pre season transfer free for all. Then the three times champions snapped up 27 year old Zulham and things slipped into place.

Lerby, no relation to former Danish international Soren, gave the visitors a surprise lead on just three minutes and doubled it before half an hour. Bali United, complete with former Persipura keeper Jae Hoon between the sticks, were taking the game to the Black Pearls and the home team were none too happy.

A goal right on half time by Tinue Pae soothed the nerves somewhat for the home team but coach Osvaldo Lessa refused to make any dramatic changes during the break.

Instead he waited until half way through the second half when he hauled off Yohannes Pahabol, two goal hero in their last game, and replaced him with the man they are calling ZZ7 on 63 minutes. Four minutes later and it was he who levelled the scores.

Boas (81'), with an assist by the substitute, and Robertinho (85') put the game to bed while Zulham completed his cameo with a second in injury time.

Gresik United v Mitra Kukar 3-2 (Yusuf Effendi, M Kamri, Jimmy Supriono; Septian Maulana, Diego Michiels) 9,000

Gresik United came from behind to defeat 10 man Mitra Kukar to make it a perfect start to the season for the East Java side.

2-1 down at half time, M Kamri formerly of Persema and the veteran Supriono fought back to the delight of the home support.

It has been a tough baptism for new Mitra Kukar coach Scott Cooper who had previously worked with Buriram United and Muang Thong United in Thailand but while his side may have lost their opening two games he will know that on the horizon are a couple of home games which can go someway towards moving his side away from the nether reaches of the table where they now reside. Mind you, next up is Arema!

Gresik maybe enjoying the view from 3rd place where they are level on points with leaders Persipura and champions Persib but they wont have much time to savour the points; on Saturday they are away to Barito Putera!

Perseru v Persiram 1-1 (Ali Qaddafi; Mbida Messi)

Persebaya v Pusamania Borneo 1-1 (Emile Mbamba; Lopicic)

The game that had all of football talking after it was alleged former professional footballer had approached a couple of Pusamania players asking them to lose the game no doubt in return for a bit of the folding stuff.

Pictures were released of Pusamania officials grilling the ex player with one paper reproducing a picture and calling the ex player JI all the way through the piece until the last paragraph when they revealed it was in fact Johan Ibo, one time Pelita Jaya, Arema, Persebaya et all. Quite way they had to proceed with the farce of JI is not clear.

The game itself ended 1-1 after Emile Mbamba, ex Arema, scored in the 93rd minute to salvage a point for the home team and continue a trend of last gasp goals in the nascent season.

Wednesday, April 08, 2015
Late Goals And Late Kick Offs
Persela v Persija 1-0 (David Pagbe) 9,500
Persija must be wishing games only lasted 88 minutes. For the second time in four days they saw vital points slip from their grasp when Persela's David Pagbe scored the only goal of the game at Surajaya Stadium to give the home side the full three points.
On Saturday Persija went into injury time leading Arema 4-3 only for a last gasp penalty earned the home side a point.
So that is three points dropped in two away games in East Java, coach Rahmad Darmawan will be hoping playing in front of their own support in Jakarta can see them return to winning ways.
Persib v Pelita Bandung Raya 3-0 (Atep, Konate Makan, Taufiq) 8,742
PBR took to the field with a banner thanking the good folks of Bandung for their support over the last few seasons. They had hoped to use Siliwangi Stadium in the city for the new season but the ground has been deemed unfit so they are still scouting around for a new venue and hope to make an announcement before their first home game of the season on Monday.
That would be nice. Wouldn't do after all to make the announcement after the game, would it?
One local paper is making a big deal of the fact that new signing Ilija Spasojevic failed to score. So what? They won 3-0 but the paper runs with a sarcastic headline along the lines of 'Spaso Playing? I Didn't See Him.' Wonder what that was all about?
Two games, six points, two clean sheets. I don't think Persib are worrying too much.
Meanwhile Persib keeper I Made Wirawan is said to be recovering after taking a knock in the second half. Defender Vladimir Vujovic replaced him between the sticks for the last few minutes.
Sriwijaya v Semen Padang 2-2 (Raphael Maitimo, Ferdinand Sinaga; Nur Iskandar, Hendra Bayauw) 10,207
How you look at this result depends if you are a 'cup is half full, half empty' kind of guy'. The old adage in football is you win your home games and get what you can away. Sriwijaya dropped points for the second consecutive home game and with most football fans in this country being of the 'half empty' persuasion, coach Benny Dollo may take some solace in the knowledge the next couple of games see him take his expensively assembled side to PSM and Persiba.
As coach he may find the fact his team did come from behind twice a positive point, at least when talking to the media and the fans (he missed the press conference after the game so a moot point) but behind closed doors he will be fuming at going down at home twice.
Much is expected of Sriwijaya this season as my column in
The Jakarta Globe
says but a return of two points from the opening two games was most definitely on the agenda.
Arema v Barito Putera 1-0 (Fabiano Beltrame) 4,151
A new feature this season, in response to the demands of TV, is 9pm kick offs. This game kicked off at 9pm...check out the crowd.
For the second successive game Arema relied on new signing Fabiano to dig them out of a hole, the defender now has three goals in two games.
But while Arema will celebrate the three points there must be questions asked about 9pm. TV viewers want to see packed terraces and Arema in full voice is one of the finest to see. But they stayed away in their droves.
Kanjuruhan Stadium is a pain to get to from Malang, it is more than a half hour drive down narrow lanes and of course there is no public transport from the city centre. Indonesian fans are now learning, as English fans have, once you sell your soul to TV you start to lose the game.
Monday, April 06, 2015
ISL Gets New Sponsor For New Season
Finally the much delayed new season is with us and a new name for the Indonesia Super League. Thanks to a sponsorship deal with Qatar National Bank the ISL will henceforth be known as the QNB League and is the first time the league has been sponsored by a non tobacco company.

Champions Persib Bandung opened the defence of their title with a narrow 1-0 victory over Semen Padang in front of a sell out crowd at Si Jalak Harupat Stadium. In fact such was the interest in the game kick off was delayed by 15 minutes due to congestion on the approaches to the stadium.

The game also marked the debut for new striker Ilija Spasojevic, brought in from Pelita Bandung Raya and the new signing quickly won over the faithful with his pass allowing M Ridwan to score the only goal of the game on 18 minutes.

Three times champion Persipura Jayapura got their season off to a winning start as they defeated Persiram Raja Ampat 2-0 at the Mandala Stadium. With striker Boas Solossa injured after taking a knock during Indonesia's friendly victory against Myanmar, Yohanes Pahabol was drafted in to partner new signing Zulham Zamrun and he responded by netting both goals.

Arema Indonesia and Persija Jakarta shared eight goals in a thrilling, seesaw encounter at Kanjuruhan Stadium witnessed by almost 23,000 fans. Cristian Gonzales gave Arema the lead on 10 minutes only for talismanic striker Bambang Pamungkas, returning to Persija after a two year hiatus, equalising with a penalty on 19 minutes. Ten minutes later Persija took the lead when Bambang scored his second but the joy was shortlived; 60 seconds later Samsul Arif continued where he left off last season with a fine finish from 12 yards.

Arema's new signing from Persija, Brazilian central defender Fabiano Beltrame, made it 3-1 seven minutes before the break came to allow everyone present to take stock of quite a remarkable game. Bambang completed his hat trick on 75 minutes and with eight minutes on the clock Greg Nwokolo, back at the club for his second spell, made it 4-3 for the visitors. However a penalty in the last minute of injury time was coolly slotted home by Beltrame leaving both sides with a point.

Sriwijaya Palembang had invested heavily pre season and coach Benny Dollo went into the team's first game of the season boasting a multitude of new attacking options. Goran Ljubojvic was brought in from Singapore's Balestier Khalsa and Patrich Wanggai from Malaysia's T Team while Ferdinand Sinaga (Persib) and Titus Bonai (Persipura) were sourced locally.

While Dollo had enjoyed the luxury of a near open cheque book, his counterpart at opponents Pelita Bandung Raya, Dejan Antonic, had enjoyed a much more gruelling pre season with money troubles never far away. Indeed he was forced to part with his marquee signing, Ilija Spasojevic before a ball was even kicked. Ljubojevic scored right on half time to give the home team a slender lead but despite the problems surrounding the club the PBR players stuck in and earned a point when David Laly equalised with 14 minutes on the clock.

It was a fine battling performance from PBR and while Dollo may have been disappointed not to get three points he knows his new strike force are a work in progress.

In other games, Persebaya Surabaya defeated Mitra Kukar 1-0 at Bung Tomo Stadium in Surabaya. Watched by just over 2,000 Dany Saputra's 15th minute goal was enough for the points in a bad tempered affair that saw seven yellow cards. Gresik United beat newly promoted Pusamania Borneo 2-1 thanks to first half goals from Yusuf Effendi and Riko Simanjuntak.

The well travelled Liberian striker Eric Weeks Lewis scored a consolation for Pusamania but it was too little too late and the home side held on for the points. Barito Putera left it late to grab the points at Surajaya Stadium in East Java but goals from Agi Pratama and TA Mushafri left the hosts Persela Lamongan and their supporters empty handed while Bali United Pusam lost 2-1 to Perseru Seru with Osas Marvellous netting a late winner.

Who Will Follow Persires?
I'll be honest with you. I had to google Rengat. It is between Pekanbaru and Jambi, an area I am totally unfamiliar with.

Anyways, Rengat has, or should I say had a football team and their name is Persires. I did see them play once, away to Persipasi at the old Patriot Stadium but beyond that the club has rarely crossed the radar. Which is a shame really but their recent past has been quite interesting if not in the slightest bit successful.

Fans in Rengat would have had a ready made local derby against Persih while the biggest club in the area would have been PSPS Pekanbaru. I wonder what the supporters do these days for football beyond play among themselves on a bit of patchy grass. They cant go see Persires any more, that's for sure. They were taken away years ago.

The tale is a familiar one in Indonesian football.

Back in 2011 Persires merged with Bali Dewata, a founder member of the breakaway Indonesia Premier League and the team that brought Ilija Spasojevic to Indonesia.

As a result of the merger the team became known as Persires Bali Dewata. For those who don't known the Persi/Perse you see at the beginning of most club names is an acronym meaning Football Association. So with the Bali merger the team was known as Rengat Football Association Bali Dewata. And they played in Bali.

What about the fans left behind in Rengat? We'll come to them later.

In 2013 Persires left the tropical island cliche paradise and moved to the north coast of Java, settling down in Cirebon, a nice seafaring town with a little bit of history attached to it. For 2013 they were known as Persires Cirebon.

What about the fans left behind in Rengat and Bali? We'll come to them later.

From Cirebon Persires moved again this time just down the road to Kuningan where they became known as Persires Kuningan.

What about the fans left behind in Rengat, Bali and Cirebon? We'll come to them later.

With the new Divisi Utama season to begin at the end of April Persires have been scouting around for a new home and after flirting with Wonogiri have settled upon Sukoharjo, a town in Central Java not too far from Solo. Their new name is Persires Sukoharjo.

What about the fans left behind in Rengat, Bali, Cirebon and Kuningan? We'll come to them later.

Pelita Jaya's travels have been well chronicled in this here blog but Persires in whatever carnation must run them pretty close for moves and we can be sure there will be another move in 2016.

But what's the point? What is their connection these days with Rengat and indeed why even keep the name when it seems clear they have nothing to do with the area anymore?

You will notice I have posed a few questions about the original fans of Persires but I have not answered them. I am not going to. I am merely following the pattern set by the club of ignoring them.



Wednesday, April 01, 2015
Happy Anniversary Malang
Indonesian cities like to celebrate their birthdays and today it is the turn of Malang the city in East Java which is home to Arema.

To commerate the city's founding no doubt there have been heaps of events lined up but a decision taken in far off Jakarta is likely to put a dampener on the day for many of the inhabitants.

BOPI, a body set up by the government to 'oversee' professional sport have decided Arema as well as rivals Persebaya have failed their verification process and so cannot compete in the Indonesia Super League which is due to kick off on Saturday. Yep, 72 hours away. Arema host Persija n their first game of the season and an estimated 1,000 travelling fans have already made their arrangements.

And for what? Because a body not recognised by FIFA or the AFC have decided to impose their own criteria on professional football in Indonesia, a role that belongs exclusively to the PSSI.

Why have Arema failed? Who knows. They can talk about not ticking the correct boxes, they can talk about the lingering effects of the IPL which saw both Arema and Persebaya have two clubs share the same name but many will still be suspicious. And why haven't PSSI jealously guarded their own corner in the way they did when the IPL was launched back in 2011.

What next? Who knows. Will Arema and Persebaya quietly accept the decision while other clubs seemingly passed the process despite being in worse condition? Is this anything to do with PSSI elections later this year? Are there chocolate cupcakes on the moon? Who knows...

What we do know is yet another cack handed decision makes Indonesian football a laughing stock.

Happy anniversary Malang...

Monday, March 30, 2015
Divisi Utama 2015 Groups
In the absence of any meaningful news coming out of Indonesian football and perhaps a legacy of a tad too much free time mixed in with some good old fashioned optimism here are the planned groups for Divisi Utama 2015.

Group 1 - Persiraja, PSBL, PSMS, Pro Duta, Bintang Jaya, PSPS, Persih, PS Bengkulu, PS Bangka

Group 2 - Cilegon United, Perserang, Persita, Villa 2000, Persikabo, Persika, Persikad, Persires, PSGC, PSCS

Group 3 - Persibangga, Persibas, Persibat, Persip, PSIS, Persijap, Persipur, PSIR, Persis, PPSM

Group 4 - Persiba Bantul, PSIM, PSS, Persinga, Persatu, Madiun Putra, Persik, PSBI, Persepam, PSMP

Group 5 - PSBK, Laga, Persida, Perssu Madura United, Persekam, Persekap, Persebo, Persewangi, PS Badung, PS Sumbawa Barat

Group 6 - Persipon, Kalteng Putra, Martapura, Persbul, Persigo, Yahukimo, Persigubin, Persiwa, PSBS, Persifa

These groups may of course change in the future!

Personally think it is a shame there is no Deltras nor Persitara, two teams that seem to have fallen off the map in the last few years.

A busy season for fans in Banten province with Perserang, Cilegon United and Persita going toe to toe though much depends of course on where Persita will play their home games; the last two seasons have seen them exiled in Karawang and Kuningan.

Newly relegated Persepam MU have lost the MU part of their name, the letters being added to newly promoted Perssu. Both teams hail from the east of Madura island but Persepam played their home games in Bangkalan during their ISL cameo.

Tasty derbies in Group 3 with PSIS, Persip and Persijap battling it out for local pride while the presence of PSIR means the Pantura will play host to plenty of football fans over the season.

And is Yogyakarta Indonesia's football city? PSIM, PSS and Persiba find themselves in the same group which should keep local security officials busy for a while!

Meanwhile Bali goes from famine to feast. The popular tourist destination now has two football teams with PS Badung earning promotion to Divisi Utama. It will be interesting to see how the more traditional local side does attracting fans against the more heavily financed Bali United Pusam who were parachuted in from Samarinda.

Thursday, March 26, 2015
Indonesia v Cameroon 0-1
A good work out for Indonesia against Cameroon who may have been missing some of their big names but were still too much for the hosts.

Benny Dollo's first game in charge following the poor showing at last year's AFF Cup and many fans would be interested in knowing what changes he had imposed on the underachieving merah putih. Actually it turns out the fans weren't asking the question as next to no bugger turned up with the attendance reported as 1500-2500!

The much vaunted nationalism we read about seems to have deserted football or at least the football public in Sidoarjo and nearby Surabaya judging by the piss poor number. Would the game have attracted more had it been played in Jakarta? Possibly though the stadium had already been long booked by some boy band called One Direction; forward planning that is seemingly beyond the powers that be in football.

Dollo hardly rung the changes though one noticeable absentee was Sergio Van Dijk who had led the line in Vietnam. In fact given Dollo is coaching Sriwijaya it is perhaps surprising players like Patrich Wanggai and Ferdinand Sinaga were not given a bigger role to play.

Instead the ageless Cristian Gonzales was called away from a friendly with his club side Arema against second tier Persip to lead the line for the national team with Tantan, Boas Solossa and Zulham playing just behind but tasked with getting up in support as often as possible.

With no competitive football under their belts since the end of the 2014 season, Indonesia struggled to find any rhythm though of course they also struggled to find any rhythm in Vietnam at the end of last season. There was plenty of huff and puffed cheeks but so many simple passes were misplaced so much energy was spent just trying to get control of the errant ball.

Furrowed eyebrows and hands on hips maybe considered evidence of hard work but as is so often the case the energy was being expanded in the wrong areas. What was needed was someone in the middle to get the ball on the ground, take a touch or two and pick out the right pass. Instead players were in such a hurry to control and pass the precious round thing was given away far too often and Indonesia, in front of the apathetic crowd, struggled for fluency.

In the end the result flattered Indonesia. I Made Wirawan made some fine stops in the second half to keep Cameroon at bay and the history books will record a narrow loss, not the performance.

Next up for Indonesia is a game against Myanmar also in Sidoarjo

I Made Wirawan
Farizi, Victor Igbonefo, Yohanis Tjoe (Aryanto), Sukadana (Raphael Maitimo)
Kipuw (Tony Sucipto), Hariono (Jufriyanto)
Tantan (Bayu), Boas Solossa, Zulham
Cristian Gonzales (Ferdinand Sinaga)




Tuesday, March 24, 2015
Spaso Is A Bobotoh
Sorry, long time no post. Well, not much has been happening in the whacky world of Indonesian football and I did have a few days in England which meant my focus and energy lay in other directions.
Now we have some real genuine bona fide news. Persib have at last signed a foreign striker. After a tortuous search that has lasted months and taken on an almost farcical edge the Indonesia Super League champions have brought in Ilija Spasojevic to fill the void left by the departures of Ferdinand Sinaga and Djibril Coulibaly (do the maths!).
For the alert out there Spaso, as everyone seems to call him, had signed for Pelita Bandung Raya ahead of the new season but events have taken a more sinister turn there. The debate has moved on from where they will play their home games to 'will the last person to leave please turn out the lights'.
Back to Spaso. The Montenegran was born in a town called Bar which seems fair enough to me first moved to Indonesia in 2011 when he signed for the short lived Bali Dewata in the even shorter lived Premier League. He has since enjoyed successful spells with PSM, Mitra Kukar and most recently Pusam averaging 10 goals a season along the way.
I am surprised it has taken the 27 year old striker so long to end up at one of the biggest clubs in the country. Every time I have seen him he has impressed and in my more loony moments I have taken to calling him the Zlatan Ibrahimovic of the ISL...testament to his build and technique.
Apparently Spaso was signed without undertaking a trial, a rare event in this country, and I can't help but think the prevarication by Persib over a new striker may have been in part because he was in fact their main target all along though of course the champions can in no way have predicted the woes PBR are currently facing.
I won't bother listing all the players Persib have looked at over recent months, life is too short, but most definitely Spasojevic's arrival does add a potency to an already decent looking squad but you wonder if there is more to come. Like I said, two have left. Now, one has come in. Will Persib be sniffing around PBR again in the near future?
Meanwhile Spaso teams up with another Montenegran, defender Vladimir Vujovic. The two are familiar to each as they both had short stints with FK Atyrau in the Kazakhstan Premier League without actually playing for the club.
Sunday, March 08, 2015
A Woman's Place Is Doing The Laundry. Not.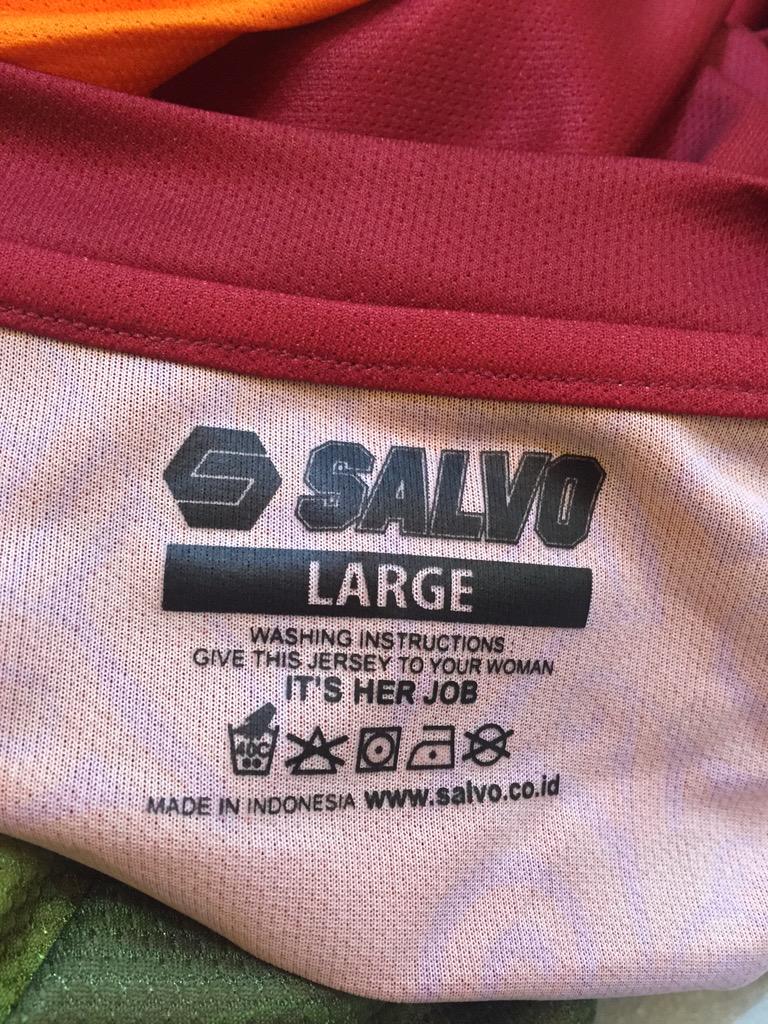 Indonesian football clubs are starting to realise there is money to be had from replica shirts and while the designs may often be not all that special in some cases they are getting better. And rather than just get foreign kit manufacturers to regurgitate their copy n paste designs many clubs are opting for local companies to design their kit.
There is one issue at least with the increase of local kit supplier. The keys words being local and supplier. You will find Seman Padang and PSM fans all over Indonesia but no local retailers will be able to sell their replica shirts.
Then there is another issue and one that could well offend half the population. Pictured is the inside of a shirt made by a local company for newly promoted Indonesia Super League side Pusamania Borneo. And the washing instructions?
Following a number of complaints on social media, the manufacturers have since issued an apology saying it wasn't their intention to cause offence, they feel they were only suggesting women are more expert when it comes to doing the laundry.
When you consider the stories recently of the Chelsea physio, a woman, getting abuse because of her gender, you can see that sexism continues to blight the game.
A few years back I was watching a game. A woman physio came on the pitch and you should have heard the wolf whistles and the cat calls from the people in the stadium. By the way the only people in the stadium were security officials, guys in uniform. The grunting disgusted me and I am not the most PC person in the world. And when that comes from the folks charged with maintaining law and order you realise what a long way there remains down this particular road.
Friday, March 06, 2015
Late Kick Offs Upset Everyone
The decision by Indonesia Super League to schedule a number of matches at 9pm, to cater to TV companies requests, has not gone down with many clubs.

Quite right to. Nonsense time to start a game and 11pm is an even more nonsense time to end one and it is hardly likely to encourage fans who have commitments the following morning.

But spare a thought for clubs like Persiba, PSM and Pusamania. The 9pm kick off refers to Jakarta time. Clubs in other timezones must fit in with Jakarta time so PSM could be kicking off football matches at 10pm and finishing at midnight! And Persipura? A 1 am finish is on the cards just to cater to the TV audience on Java and Sumatra.

Games in Malaysia have long kicked off at 8.45pm but traditionally in Indonesia kick offs have been a more fan friendly 3.30 pm or 7.30 pm.

He who pays the piper calls the tune and all that but how much are the clubs actually receiving from the TV stations?

Tuesday, March 03, 2015
Benny Dollo Takes Over Indonesia, Again
After being linked with all sorts of Dutch names the PSSI has finally made a decision regarding a coach for the national team. And it is, drum roll, Benny Dollo. For the third time.

Dollo is expected to take charge of the team ahead of friendlies later next month with Myanmar, North Korea and Cameroon being touted as possible opponents in local media. So expect a game to be lined up against a bunch of Africans looking for a club and Persija Under 21s.

It's not as if Dollo is not busy what with preparing Sriwijaya for the new season which could well start in April.

As ever the move smacks of short termism. Indonesia's World Cup fate is not known yet and no doubt the PSSI are keeping their purse strings closed while they await knowledge of who they come up against.

There is also a PSSI election on the near horizon and far be it for me to suggest that may have any bearing on a decision regarding the national team coach but during the halcyon days of two leagues, when a new leadership took over they unceremoniously ditched Alfred Riedl despite him taking the merah putih to the ASEAN Cup Final months earlier.

Under Dollo Indonesian have looked world beaters at times, thumping Brunei 9-0 at the 2001 SEA Games. And who can forget the Independence Cup in Jakarta back in 2008 when Indonesia lifted its last piece of silverware after defeating Libya 3-1 in the final. Actually, it wasn't really a win; Indonesia were training 1-0 at half time and story has it one of the coaching staff lamped the Libyan coach in the tunnel at half time. Libya did not return for the second half and Indonesia celebrated a hollow win with embarrassing gutso.

Marketing Lessons For Indonesia Football
My latest Jakarta Globe
column
looks at how a small Thai team has a marketing strategy in place that dwarves anything the biggest Indonesian clubs have. With tobacco sponsorship and local government funds banned from football, clubs need to get savvy in attracting other revenue streams but they needn't go for their lessons.
Wednesday, February 25, 2015
Indonesia's Latest Football Woes
My latest column for ESPN looks at the delay to the start of the Indonesia Super League. Check it out at
ESPNFC
!