Monday, March 30, 2015
Divisi Utama 2015 Groups
In the absence of any meaningful news coming out of Indonesian football and perhaps a legacy of a tad too much free time mixed in with some good old fashioned optimism here are the planned groups for Divisi Utama 2015.

Group 1 - Persiraja, PSBL, PSMS, Pro Duta, Bintang Jaya, PSPS, Persih, PS Bengkulu, PS Bangka

Group 2 - Cilegon United, Perserang, Persita, Villa 2000, Persikabo, Persika, Persikad, Persires, PSGC, PSCS

Group 3 - Persibangga, Persibas, Persibat, Persip, PSIS, Persijap, Persipur, PSIR, Persis, PPSM

Group 4 - Persiba Bantul, PSIM, PSS, Persinga, Persatu, Madiun Putra, Persik, PSBI, Persepam, PSMP

Group 5 - PSBK, Laga, Persida, Perssu Madura United, Persekam, Persekap, Persebo, Persewangi, PS Badung, PS Sumbawa Barat

Group 6 - Persipon, Kalteng Putra, Martapura, Persbul, Persigo, Yahukimo, Persigubin, Persiwa, PSBS, Persifa

These groups may of course change in the future!

Personally think it is a shame there is no Deltras nor Persitara, two teams that seem to have fallen off the map in the last few years.

A busy season for fans in Banten province with Perserang, Cilegon United and Persita going toe to toe though much depends of course on where Persita will play their home games; the last two seasons have seen them exiled in Karawang and Kuningan.

Newly relegated Persepam MU have lost the MU part of their name, the letters being added to newly promoted Perssu. Both teams hail from the east of Madura island but Persepam played their home games in Bangkalan during their ISL cameo.

Tasty derbies in Group 3 with PSIS, Persip and Persijap battling it out for local pride while the presence of PSIR means the Pantura will play host to plenty of football fans over the season.

And is Yogyakarta Indonesia's football city? PSIM, PSS and Persiba find themselves in the same group which should keep local security officials busy for a while!

Meanwhile Bali goes from famine to feast. The popular tourist destination now has two football teams with PS Badung earning promotion to Divisi Utama. It will be interesting to see how the more traditional local side does attracting fans against the more heavily financed Bali United Pusam who were parachuted in from Samarinda.

Thursday, March 26, 2015
Indonesia v Cameroon 0-1
A good work out for Indonesia against Cameroon who may have been missing some of their big names but were still too much for the hosts.

Benny Dollo's first game in charge following the poor showing at last year's AFF Cup and many fans would be interested in knowing what changes he had imposed on the underachieving merah putih. Actually it turns out the fans weren't asking the question as next to no bugger turned up with the attendance reported as 1500-2500!

The much vaunted nationalism we read about seems to have deserted football or at least the football public in Sidoarjo and nearby Surabaya judging by the piss poor number. Would the game have attracted more had it been played in Jakarta? Possibly though the stadium had already been long booked by some boy band called One Direction; forward planning that is seemingly beyond the powers that be in football.

Dollo hardly rung the changes though one noticeable absentee was Sergio Van Dijk who had led the line in Vietnam. In fact given Dollo is coaching Sriwijaya it is perhaps surprising players like Patrich Wanggai and Ferdinand Sinaga were not given a bigger role to play.

Instead the ageless Cristian Gonzales was called away from a friendly with his club side Arema against second tier Persip to lead the line for the national team with Tantan, Boas Solossa and Zulham playing just behind but tasked with getting up in support as often as possible.

With no competitive football under their belts since the end of the 2014 season, Indonesia struggled to find any rhythm though of course they also struggled to find any rhythm in Vietnam at the end of last season. There was plenty of huff and puffed cheeks but so many simple passes were misplaced so much energy was spent just trying to get control of the errant ball.

Furrowed eyebrows and hands on hips maybe considered evidence of hard work but as is so often the case the energy was being expanded in the wrong areas. What was needed was someone in the middle to get the ball on the ground, take a touch or two and pick out the right pass. Instead players were in such a hurry to control and pass the precious round thing was given away far too often and Indonesia, in front of the apathetic crowd, struggled for fluency.

In the end the result flattered Indonesia. I Made Wirawan made some fine stops in the second half to keep Cameroon at bay and the history books will record a narrow loss, not the performance.

Next up for Indonesia is a game against Myanmar also in Sidoarjo

I Made Wirawan
Farizi, Victor Igbonefo, Yohanis Tjoe (Aryanto), Sukadana (Raphael Maitimo)
Kipuw (Tony Sucipto), Hariono (Jufriyanto)
Tantan (Bayu), Boas Solossa, Zulham
Cristian Gonzales (Ferdinand Sinaga)




Tuesday, March 24, 2015
Spaso Is A Bobotoh
Sorry, long time no post. Well, not much has been happening in the whacky world of Indonesian football and I did have a few days in England which meant my focus and energy lay in other directions.
Now we have some real genuine bona fide news. Persib have at last signed a foreign striker. After a tortuous search that has lasted months and taken on an almost farcical edge the Indonesia Super League champions have brought in Ilija Spasojevic to fill the void left by the departures of Ferdinand Sinaga and Djibril Coulibaly (do the maths!).
For the alert out there Spaso, as everyone seems to call him, had signed for Pelita Bandung Raya ahead of the new season but events have taken a more sinister turn there. The debate has moved on from where they will play their home games to 'will the last person to leave please turn out the lights'.
Back to Spaso. The Montenegran was born in a town called Bar which seems fair enough to me first moved to Indonesia in 2011 when he signed for the short lived Bali Dewata in the even shorter lived Premier League. He has since enjoyed successful spells with PSM, Mitra Kukar and most recently Pusam averaging 10 goals a season along the way.
I am surprised it has taken the 27 year old striker so long to end up at one of the biggest clubs in the country. Every time I have seen him he has impressed and in my more loony moments I have taken to calling him the Zlatan Ibrahimovic of the ISL...testament to his build and technique.
Apparently Spaso was signed without undertaking a trial, a rare event in this country, and I can't help but think the prevarication by Persib over a new striker may have been in part because he was in fact their main target all along though of course the champions can in no way have predicted the woes PBR are currently facing.
I won't bother listing all the players Persib have looked at over recent months, life is too short, but most definitely Spasojevic's arrival does add a potency to an already decent looking squad but you wonder if there is more to come. Like I said, two have left. Now, one has come in. Will Persib be sniffing around PBR again in the near future?
Meanwhile Spaso teams up with another Montenegran, defender Vladimir Vujovic. The two are familiar to each as they both had short stints with FK Atyrau in the Kazakhstan Premier League without actually playing for the club.
Sunday, March 08, 2015
A Woman's Place Is Doing The Laundry. Not.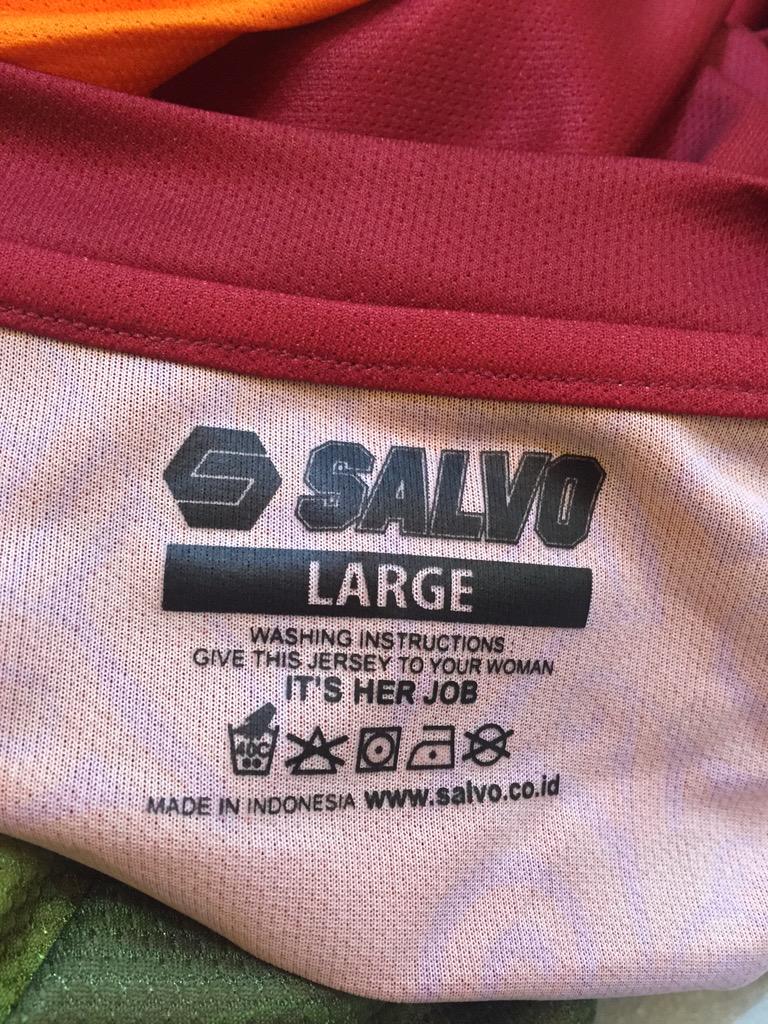 Indonesian football clubs are starting to realise there is money to be had from replica shirts and while the designs may often be not all that special in some cases they are getting better. And rather than just get foreign kit manufacturers to regurgitate their copy n paste designs many clubs are opting for local companies to design their kit.
There is one issue at least with the increase of local kit supplier. The keys words being local and supplier. You will find Seman Padang and PSM fans all over Indonesia but no local retailers will be able to sell their replica shirts.
Then there is another issue and one that could well offend half the population. Pictured is the inside of a shirt made by a local company for newly promoted Indonesia Super League side Pusamania Borneo. And the washing instructions?
Following a number of complaints on social media, the manufacturers have since issued an apology saying it wasn't their intention to cause offence, they feel they were only suggesting women are more expert when it comes to doing the laundry.
When you consider the stories recently of the Chelsea physio, a woman, getting abuse because of her gender, you can see that sexism continues to blight the game.
A few years back I was watching a game. A woman physio came on the pitch and you should have heard the wolf whistles and the cat calls from the people in the stadium. By the way the only people in the stadium were security officials, guys in uniform. The grunting disgusted me and I am not the most PC person in the world. And when that comes from the folks charged with maintaining law and order you realise what a long way there remains down this particular road.
Friday, March 06, 2015
Late Kick Offs Upset Everyone
The decision by Indonesia Super League to schedule a number of matches at 9pm, to cater to TV companies requests, has not gone down with many clubs.

Quite right to. Nonsense time to start a game and 11pm is an even more nonsense time to end one and it is hardly likely to encourage fans who have commitments the following morning.

But spare a thought for clubs like Persiba, PSM and Pusamania. The 9pm kick off refers to Jakarta time. Clubs in other timezones must fit in with Jakarta time so PSM could be kicking off football matches at 10pm and finishing at midnight! And Persipura? A 1 am finish is on the cards just to cater to the TV audience on Java and Sumatra.

Games in Malaysia have long kicked off at 8.45pm but traditionally in Indonesia kick offs have been a more fan friendly 3.30 pm or 7.30 pm.

He who pays the piper calls the tune and all that but how much are the clubs actually receiving from the TV stations?

Tuesday, March 03, 2015
Benny Dollo Takes Over Indonesia, Again
After being linked with all sorts of Dutch names the PSSI has finally made a decision regarding a coach for the national team. And it is, drum roll, Benny Dollo. For the third time.

Dollo is expected to take charge of the team ahead of friendlies later next month with Myanmar, North Korea and Cameroon being touted as possible opponents in local media. So expect a game to be lined up against a bunch of Africans looking for a club and Persija Under 21s.

It's not as if Dollo is not busy what with preparing Sriwijaya for the new season which could well start in April.

As ever the move smacks of short termism. Indonesia's World Cup fate is not known yet and no doubt the PSSI are keeping their purse strings closed while they await knowledge of who they come up against.

There is also a PSSI election on the near horizon and far be it for me to suggest that may have any bearing on a decision regarding the national team coach but during the halcyon days of two leagues, when a new leadership took over they unceremoniously ditched Alfred Riedl despite him taking the merah putih to the ASEAN Cup Final months earlier.

Under Dollo Indonesian have looked world beaters at times, thumping Brunei 9-0 at the 2001 SEA Games. And who can forget the Independence Cup in Jakarta back in 2008 when Indonesia lifted its last piece of silverware after defeating Libya 3-1 in the final. Actually, it wasn't really a win; Indonesia were training 1-0 at half time and story has it one of the coaching staff lamped the Libyan coach in the tunnel at half time. Libya did not return for the second half and Indonesia celebrated a hollow win with embarrassing gutso.

Marketing Lessons For Indonesia Football
My latest Jakarta Globe
column
looks at how a small Thai team has a marketing strategy in place that dwarves anything the biggest Indonesian clubs have. With tobacco sponsorship and local government funds banned from football, clubs need to get savvy in attracting other revenue streams but they needn't go for their lessons.
Wednesday, February 25, 2015
Indonesia's Latest Football Woes
My latest column for ESPN looks at the delay to the start of the Indonesia Super League. Check it out at
ESPNFC
!
Monday, February 23, 2015
Newly Promoted Cops Shock Kelantan
Malaysia Super League
Selangor v Johor Darul Tazim 1-1 (Andik Vermansyah; Luciano) 25,000
Sarawak v Pahang 0-0 18,988
Terangganu v Sime Darby 2-1 (Paolo Rangel 2; Nemanja Vidokovic) 8,200
Felda United v ATM 2-1 (Edward Wilson Junior, Ahmad Yahya; Norshahrul Idlan Talaha) 1,223
Perak v LionsXII 2-2 (Charles Souza, Woong Nam Kung; Khairul Amri, Firdaus Kasman) 12,000
Kelantan v PDRM 0-4 (Asfaq Ali 2, Dramane Traore, Mohamdou Sumareh) 19,500
1 - Felda United 3 2 1 0 8-4 7
2 - Perak 3 2 1 0 6-2 7
3 - PDRM 3 2 0 1 8-5 6
4 - Terengganu 3 2 0 1 5-4 6
5 - Kelantan 3 2 0 1 4-4 6
Malaysia Premier League
Penang v PKNS 1-0 (Alberto Goncalves) 7,809
Kedah v T Team 0-0 21,900
JDT II v Kuantan 5-2 (Shahfique Sharuddin 2, Shahril Ishak 2, Leonardo Valezquez; Milan Purovic, Norfahmie Hadzren) 7,900
SPA Putrajaya v Negeri Sembilan 1-1 (Nik Aslam; Francis Forkay Doe) 610
UiTM v Sabah 2-1 (Raslam Khan 2; El Hadj Diouf) 1,500
DRB Hicom v KL 1-0 (Fakrul Aiman Sidid) 350
1 - JDT II 3 3 0 0 12-4 9
2 - Negeri Sembilan 3 2 1 0 6-2 7
3 - Penang 3 2 1 0 2-0 7
Saturday, February 21, 2015
Delayed ISL Leaves Everyone Pissed
Indonesian football is pissed. The PSSI is pissed. FIFA is pissed. The fans are pissed. Everyone it seems is pissed at the decision by the sports minister to unilaterally halt the Indonesia Super League season just 48 hours before it was due to begin.
Persib had been scheduled to host Persipura last night in the opening game and the visitors were already ensconced in their Bandung hotel when the announcement came through. They checked out Friday morning, returned to their hotel in Jakarta and used its grounds for a training session. Sunday sees them head to Singapore for AFC Cup tie Warriors.
Some outfit called BOPI, the Council of Professional Sports, have done nothing for two years...check out their
website
. Yet now here they are calling on the league to be suspended and the government accepts their recommendation.
Apparently some clubs don't fulfill the criteria to compete in the league. Get away! It has ever been thus, why get on the high horse now? Could it be related to PSSI committee elections in a few months time? Who knows but delaying a league so close to its start does seem an odd way of courting popularity.
The irony is for the first time ever two clubs, Persik and Persiwa, were prevented from joining the ISL because they fell short of meeting the league's criteria. Why those two were picked on and not others who have more deep seated issues is not clear but it was a rare sign of the PSSI getting tough.
One of the conditions not being met of course relates to players not being paid on time, an time old issue here. Of course the chances of clubs honouring their commitments have become even more remote as BOPI delays the league, forcing clubs to scramble round looking for money as gate receipts dry up.
FIFA fired off an angry letter asking PSSI to get this mess sorted out as soon as possible. FIFA turns its back on many ills in the game but once it feels its power is being usurped, for whatever reason, they get pissed quickly.
BOPI has given the errant clubs two weeks to get their affairs in order. If everything is tickety boo then football can start. If not? Who knows.
The PSSI are pessimistic a new schedule can be drawn up in such a short time frame citing international commitments and all the while the delays will be costing the clubs money and potential sponsors. At a time when some clubs are starting to get their house in order this comes as a kick in the teeth to them and all the work they have done.
Not for the first time in recent years Indonesia faces action from the game's governing body. With the country set to host a couple of age group competitions as well as compete in the SEA Games in Singapore, any suspension could hit the country hard.
The sports minister is unrepentant, quoted as saying 'how can clubs be healthy if the owners are not healthy?'
In the meantime the AFC Cup goes on with Persib hosting New Radiant next week in Bandung!
Friday, February 20, 2015
Sriwijaya Talk Up SLeague Option
The SLeague season begins in 1st March with Warriors taking on Balestier Khalsa and DPMM hosting Harimau Muda. The Indonesia Super League has been postponed until 4 March at the earliest.

Sriwijaya seem to think joining the SLeague is an option. They are quite rightly put out the ISL has been ut back and the club from South Sumatra have been making noises about moving to join the SLeague. Quite how far these noises have travelled is not clear; there appears to be nothing reported in Singapore thus far.

Apparently Sriwijaya have been studying the rules of the SLeague but have they discussed the idea with the league itself? It was only last year Singapore decided they could only support 10 teams and three of them are already foreign. Would they be willing to allow another foreign team to join after the season begins?

It all seems very unlikely but until now I have seen no quotes from Singapore...I could ask them in Twitter but they are not that active in that particular arena, especially when it comes to engaging with other people (the actual social part of social media).

So you wonder what it is all about. As far as threats go it is pretty toothless. The ISL gets stopped, one team threatens to join a league already underway, it doesn't look like something to bring about any change does it?

Coach Benny Dollo doesn't seem to perturbed by the possibility of playing in the SLeague. He has given the players some extra holiday!

Woe Is Singapore
2015 is the year Singapore hosts the SEA Games but the football team hasn't had the best of preparations following two heavy defeats in home friendlies.

First up was Japan U22s, this mixed age group thing does get confusing, and Singapore U23s lost 8-1. Instead of bouncing back against Syria U23s Singapore U22s ended up on the end of another drubbing, this time 6-1.

Syria had arrived in Singapore after a couple of games in Indonesia where they had drawn one (1-1) and won the other (3-0).

Singapore footballers mostly have it pretty easy. Playing in Malaysia is considered a culture shock and a tiresome journey can be from Woodlands to Bedok. And while coaches Richard Bok and Adie Iskander will not be too pleased with the defeats they will be using the opportunity to see how the players react.

Do they have the mental strength necessary to turn them from good players into winners?

Fact is, by playing Malaysia U23 and Indonesia U23 ad infinitum just confirms what we all know; the players are good...by ASEAN standards. But if Singapore wants to kick on in events like the AFC Asian Cup, the Asian Games and even the World Cup they need to raise the bar both on the field and mentally.

Singapore U23s and U22s need more games like these, not less. And they need the fans to understand the growing pains are a necessary part of a player's evolution.

U22. U23...Confusing eh?!

Tuesday, February 17, 2015
Nakhorn Ratchasima Sign Ghanian Striker
Ok, I don't really bother with Thai football these days but I do like the idea of Nakhorn Ratchasima in the top flight.
And now they have gone and signed Dominic Adiyiah subject to a medical. So what I hear you cry? Well, Adiyiah spent last season playing for FK Atyrau in the Kazakhstan Premier League and I saw him play a couple of times.
It is certainly going to be a bit different, the western most steppes of an inland republic to a tropical kingdom in South East Asia.
I would like to say I made a note of the player while I was watching FK Atyrau but I can not lie...I was too busy trying to keep warm.
Persita Return Closer To Home
The last few seasons haven't been easy for fans of Persita. Kicked out of their home town of Tangerang by a religious edict that banned football at the Benteng Stadium following years of disturbances between rival fans and local residents, Persita have gone nomad, playing games in Kuningan and Karawang...neither particularly convenient for the club's supporters.
Next season at least, which should begin next month, will Persita make the relatively short trip to Maulana Yusuf Stadium in Serang which they will share with Perserang.
2015 promises to be a fun campaign in the province of Banten with Cilegon United, Persita and Perserang all competing in Divisi Utama as are Villa 2000 who are based in the province.
There is talk of a new stadium for Persita but who knows when, who knows where.
Persitara Upset At Government Interest In City Rivals
Not much has been heard of Persitara in recent months. Jakarta's other team, they are ignored by the media who are attracted by stories, any stories, about Persija.
The news the city government are willing to take a stake in Persija has Persitara even more riled. Everyone knows Persija have money problems...despite having one of the largest supports in the country they struggle to pay wages or attract sponsors. Instead of the management doing the decent thing, the club now have the taxpayer taking an interest...and Persitara ain't happy.
'We don't think it's fair. It's discrimination,' said one Persitara official. Persija isn't the only club in Jakarta...(others) need help.'
'If Persija (with all their resources) can't attract cash then what about us, he continued somewhat whistfully.
And there in lies the crux. Why should the Jakarta taxpayer contribute to the running of any football at all? The roads are a mess, flooding is an annual event, doesn't the government have better things to spend its money on than a football club which has a reputation for financial mismanagement?
If Persija can't find money then the management should change or they should go the way of other wasteful businesses. Or if you are going to help one then you should help all. Not everyone in Jakarta supports Persija!
Persebaya Stay Put
There had been some talk that Persebaya would be playing their home games in the 2015 Indonesia Super League at Bangkalan Stadium in Bangkalan, Madura.
It seems that talk has ended with no less a personage than the mayor of Indonesia's second largest city getting involved.
Tri Rishmaharini has not only quashed the move talk, she has said she will intercede with the management of Bung Tomo Stadium, used by Persebaya last season, to lower the rental costs before adding 'I (care) about the future of Persebaya not just because of you (the fans) but because I am the mother of Bonek'.
Persebaya are one of the biggest clubs in the country but recent seasons have seen the fans desert them, a conflict that has its roots in the disastrous split that afllicted Indonesian football back in 2011.
The club has failed to reconcile itself with its supporters leaving an expensively assembled team last season playing in front of ridiculously small crowds in a large arena.
Whether the mayor's move will be a step on the road to reconciliation or will just be seen as a political move ahead of an election remains to be seen.
The mayoral move is the last example of political involvement in Indonesian football, normally a move seen as abhorrent by FIFA. Jakarta's government recently announced it was interested in taking over a shareholding in Persija in a bit to help the club stabilise its finances.
Jakarta Football Chat
The complete first episode is now on line...
Jakarta Football Chat
Hopefully a second edition will be recorded this weekend...more details via my Twitter account or email me if you are interested in joining in or watching...
Malaysia Wrap
Malaysia Premier League

T Team v Penang 0-0 550
Sabah v DRB Hicom 3-2 (El Hadji Diouf, Azzizan Nordin, Safuan Shaari; Ivan Babic, Fakrullah Rosli) 9,818
Negeri Sembilan v UiTM 2-0 (Francis Forkay Doe 2) 7,000
SPA v Johor Darul Tazim II 1-2 (Uezie Michael Chukwubunna; Leandro Sebastian, Shafiq Shahruddin) 300
Kuantan v Kedah 2-2 (Abdul Malik Mat Arif, Milan Purovic; Keith Nah, Naddrol Bakhtiar) 1,600
KL v PKNS 2-1 (Kalle, Choi, Gonzalo Manuel) 200

Certainly some lopsided attendances in the Premier League. KL by the way hosted PKNS at a field in Shah Alam, they are still waiting to return to Merdeka Stadium. Ex Bolton striker El Hadj Diouf made it two in two for Sabah as they narrowly overcame DRB Hicom and Penangs Indonesia/Brazil connection was not enough to secure the points against T Team...Hilton Moreira, ex Deltras, Persib etc, was yellow carded for his efforts!

JDT II, Negeri Sembilan and Sabah share top spot with 100% records while SPA, UiTm and DRB Hicom, clubs with the least likely names, are at the bottom with no points after the opening two games

Malaysia Super League

Pahang v Selangor 1-1 (Ruben Conti; Andik Vermansyah) 16,000
Kelantan v LionsXII 2-0 (Jonathon McKain, Badri Radzi) 18,000
ATM v Perak 0-2 (Nasir Bashrudin, Abu Hassan) 1,500
Sime Darby v Felda United 0-3 (Ahmad Yahya, Makeche Ndumba, Shukor Adan) 1,000
Sarawak v Terengganu 3-1 (Billy Mehmet, Ashri Chuchu, Joseph Kalang Tie; Paolo Rangel) 10,000
PDRM v Johor Darul Tazim 1-0 (M Sumareh) 4,500

JDT slipped to their first MSL defeat of the season going down to newly promoted PDRM. Even the arrival of Safee Sali on 80 minutes wasnt enough to lift the champions tired spirits...while the other teams in the league have played just two league, JDT have been competing in Asian club football, defeating Bengalaru 2-1 before travelling to Thailand and going down against Bangkok Glass.

1 - Kelantan 2 2 0 0 4-0 6
2 - Perak 2 2 0 0 4-0 6
3 - Felda United 2 1 1 0 6-3 4
4 - Sarawak 2 1 1 0 6-4 4

Friday, February 13, 2015
Time To Wrest AFC Cup From Kuwaiti Clubs?
The losses by Persib, Warriors and Johor Darul Ta'zim in the AFC Champions League qualifying rounds won't have come as a big surprise but it does mean South East Asia will have some pretty strong competitors in the AFC Cup but whether one can make it all the way to the final remains to be seen.

As is often the case away form will be key with some clubs perhaps better set up to get something on their travels than others. I am not going down the old group of death nonsense but I do think Pahang and Persib should be thinking they have enough strength to make it through to the next stage.

Persipura reached the semis last year before mysteriously caving in the second leg of the semi final, losing 6-0 at home to ultimate champions Al Qadsia from Kuwait. In fact Kuwaiti sides have won the last three titles and no side from East Asia has reached the final.

I have my doubts that some clubs from our region take the tournament seriously; not out of a lack of respect but domestic campaigns can be draining on resources and you can't blame them for perhaps prioritising games closer to home.

But what the hell. I am looking forward to it and in an ideal world I have earmarked some of the games I would like to see...

Group E

Warriors, Persipura, Bengalarau + 1

24/02 - Warriors v Persipura

Group F

Balestier Khalsa, Johor DT, East Bengal, Kitchee

10/03 - Balestier Khalsa v JDT

Group G

Pahang, Global, South China, Yadanarbon

11/03 - Pahang v Global

Group H

Persib, Laos Toyota, New Radiant, Ayeyawady

15/04 - Laos Toyota v Persib

Wednesday, February 11, 2015
Give It Up For The Homies
AFC Champions League Qualifying

Hanoi T&T v Persib 4-0 2,500
Guangzhou R&F v Warriors 3-0 7,883
Chonburi v Kitchee 4-1 (Leandro 3, Nurul Sriyankem) 3,432
Bangkok Glass v Johor DT 3-0 (Lazarus 2, Narong) 5,299

We are not really surprised, are we? Perhaps the final score but never the victor. Persib travelled to Vietnam and most of the media stories surrounded the weather; no one it seemed had done their research on their hosts.

In fact, Persib, despite winning the ISL last season under Djajang Nurjaman, were forced to find a different coach because the AFC insisted only A licensed coaches could lead teams in their competition. The Indonesian champions turned to Emral Abus. Nope, never heard of him either but he was fully qualified so everyone, well the AFC, was happy.

The VLeague has been in progress for a few weeks now so the hosts were obviously going to be much fitter and better prepared than Persib who were coming off the back of a number of friendlies against regional powerhouses PS Padang and Felda United.

Mind you, the Thai Premier League has yet to begin either yet both Bangkok Glass and Chonburi were able to record comfortable home wins against Hong Kong and Malaysian opposition.

How important is playing at home in these types of games?





Monday, February 09, 2015
Profitable Cheetahs Aim To Give Back
SINGAPORE
- As the S.League moves into its 20th season, a local club have made a bold and unprecedented move. At Hougang United's (HGFC) pre-season press conference at the Japanese Association yesterday, Cheetahs chairman Bill Ng told The New Paper that his club will embrace "financial freedom" for the upcoming S.League season, which starts next month.
While the club will continue to collect the annual Football Association of Singapore subsidy of around $500,000, they will donate at least the same amount back to FAS for its football development fund, especially towards youth football. It is understood that Hougang made a profit of $450,000 last season and they aim to continue to be self-sufficient via Ng's contribution, as well as that of other sponsors. MERGER Following their merger with Woodlands Wellington after the end of last season, Hougang could also draw on the proceeds from the jackpot machines in two clubhouses. Candidly, Ng said: "The merging of Woodlands Wellington FC and Hougang United brings about a consolidation of strengths and resources. We want to do more in terms of donations and community work.
"The newly formed committee is ready to face the challenges of the digital era. "Responsible budgeting has helped us achieve more financial freedom to choose what we want to do now." With a healthy balance sheet, Ng did not dismiss the possibility of signing a marquee player, but said: "We don't buy trophies, we build for one."
Hougang vice-chairman Jeffery Sim then introduced the HGFC Scholarship, which will offer students below 18 and footballers over 21, opportunities to train abroad. The HGFC Challenge Cup, scheduled for the S.League break in June and July, will serve as a platform to scout for deserving candidates.
The club also unveiled a $100,000 sponsorship deal by ESW Manage, as well as a partnership with Global Football Academy that has helped the club secure the services of three Japanese players - Under-19 international defender Yuki Uchiyama, midfielder Shunsuke Nakatake and forward Takahashi Manato.
The Rams' rich tradition will also not be lost with the merger. Ng handed over a cheque of $12,000 to former national and Woodlands winger S Anthonysamy, who is paralysed from the neck down after a freak injury in a friendly against Selangor in 1996, and added that the Rams' crest will be printed on the right sleeve of the Hougang jersey.
There will also be buses ferrying fans from Woodlands Stadium to Hougang Stadium and back for every Hougang home match. Ng, who has been Hougang chairman since 2009, then vowed to improve not just his club, but also the standard of local football as he announced that the Cheetahs have received approval to run an Under-18 Centre of Excellence this season.
"We don't agree that since this is Singapore football and not the English Premier League, we don't have to try," he said. - See more at: http://news.asiaone.com/news/sports/hougang-united-aim-do-more-community#sthash.ocL4VzhY.dpuf
Results 07/02
Malaysia Super League

Terengganu v Selangor 2-0 (Ismail Faruqi, Gustavo Lopes) 10,000
Felda United v Sarawak 3-3 (Bojan Miladinovic, Makache Ndumba, Edward Wilson Junior; Billy Osman, M Khairol, M Shahrol) 2,573
Perak v Sime Darby 2-0 (Nuridzuan, Woong Nam Kung) 10,000
ATM v Kelantan 0-2 (Noor Hazrul, Erwin Albeirocarillo) 6,000
LionsXII v PDRM 5-3 (Gabriel Quak, Faris Ramli, Izzdin Shafiq, Hafiz Sujad, Sahil Suhaimi; Dramane Traore 3) 5,288

Saturday, February 07, 2015
Jakarta Globe Column
Johor Darul Ta'zim and Bengalaru are changing the way clubs think and operate in Malaysia and India with deep pockets and modern ideas.
Check out my
Jakarta Globe
column for more...
Action from the game when the two teams met last week can be found at
Asian Football Pictures
...
Results 06/02
Malaysia Premier League

PKNS v T Team 2-0 (Gonzalo Manuel Soto, Munir Amran) 200
Penang v Kuantan 1-0 (OG) 5,544
Kedah v SPA 5-1 (Manaf Mat Dzahir, Keith Nah 2, Baddrol Bahtiar, Chidi Edah) 9,318
UiTM v JDT II 1-2 (Doa Bakary; Shahril Ishak, Leandro Sebastian) 1,300
DRB HICOM v Negeri Sembilan 1-3 (M Fahkrul; Jean Marc Alexander, Francis Forkay Doe, G. Puaneswaran) 350
KL v Sabah 0-2 (El Hadj Diouf, Safuwan Adli) 1,000

Jacksen F Tiago got his coaching career in Malaysia off to a good start with a narrow win over Kuantan thanks to an own goal. KL weren't so fortunate as they celebrated their return to the second tier with a loss at home to Sabah. It also marked KL's first game at Merdeka Stadium.

UPDATE - scorer of Negeri Sembilan's third goal changed...thanks for the heads up